At the time of this post, most of the US is staying home and only leaving for essential needs due to the Covid 19 Corona virus pandemic. Social distancing forces us to find useful ways to spend time while confined to home. I've received a few calls to do virtual magic shows, and thought to share a few of my favorite magic shows on TV. These are listed in no particular order. Use shows like these to stimulate your kids critical thinking skills.
Magic For Humans
My wife and I got to see Justin Wilman when he did a show here in Portland in 2018. It was a great show. I then watched his series Magic for Humans on Netflix. It's a cross between the old Candid Camera show and a Magic show. Fun stuff. Here's a link. They recently released the second season. 
https://www.netflix.com/title/80190510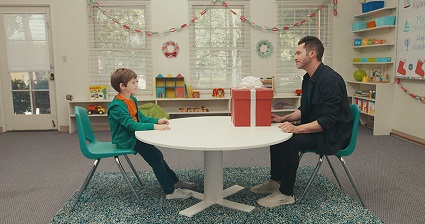 Carbanaro Effect
This is definitely a take off on the old Candid Camera show but with people not realizing that they are being pranked by a highly skilled magician, Michael Carbanaro. He is awesome at explaining how that the crazy things that flip people out are really accomplished by some new technology. People fall for it every time. He just makes up stuff on the fly and gets away with it. Hilarious! Episodes are available on YouTube, Amazon, Sling, etc.
Here's the official site on TrueTV https://www.trutv.com/shows/the-carbonaro-effect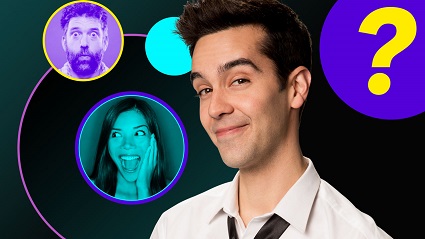 Penn & Teller "Fool Us"
This is an unusual reality / game show.  The premise of the show is that the best magic performers from around the world try to fool the uber famous magic duo "Penn & Teller". These contestants bring their A game magic performances in effort to win a trophy and bragging rights.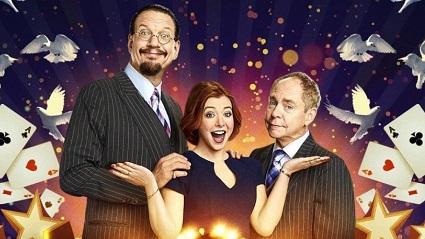 After a contestant's attempt on the game show, Penn explains how they think the trick was done. To protect the secrets, they explain in language sprinkled with code words known only those in the magic industry. [PARENTS: here's a chance for you and your kids to try to decipher the code and also figure out how the tricks are done.]
Penn & Teller have been performing magic for over 40 years and have a vast knowledge of magic. Success at fooling these legends of magic also gains the winner a chance to perform at the Rio Hotel in Las Vegas. That performance would be in a guest spot during Penn & Teller's popular performances each week.
Masters of Illusion
This is a grand illusion show featuring renowned performers from around the world. Expect to see world class illusions as well as some great close-up magic too. Find this show on the CW network. Watch for free: https://www.cwtv.com/shows/masters-of-illusion/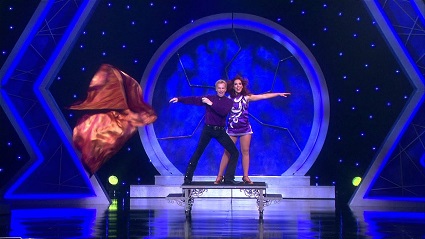 Wizard Wars
This was a super fun game show. Up and coming magicians would appear on the show. The'd be put into teams of two. Each pair would face off against another pair.
The teams would be given about three every day items that they must include into a magic performance. Weird items that you'd not normally consider to use in a magic trick. Think… can opener, bar of soap, and liter of soda… or other random stuff. Both teams were given a set time and a lab full of props to come up with a presentation.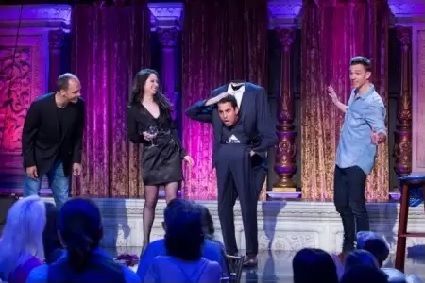 This show really forced creativity from the contestants. By the way, it was judged by a panel of magic experts headed by none other than Penn & Teller.
It was originally released on the Syfi channel but can now be found on Amazon: https://www.amazon.com/Wizard-Wars-Season-1/dp/B00MV1R8BU
Start A Conversation With Your Kids
As you use this time at home to enjoy magic shows on TV, let it spark some creativity and stimulate some great conversation with your kids. Use our Post Magic Show Discussion Guide to help with guiding those conversations with your kids. There are also some really good books shared there that you can get from Amazon and  learn some professional grade magic tricks.
Click to find out more info on a fun, educational, and inspiring show for your group.
Free Guide
Save time and reduce stress in planning your child's birthday party. Get our FREE "Birthday Party Planning Survival Guide". Click on the button below to download it today!


Talk Back
How have you used Television shows to stimulate conversations with your child(ren)? Post this article and/or your comment on our Facebook Group. Much appreciated.
Tell Others
If you find value in this article, please use one of the links on the page to share it with your friends on Facebook, Instagram, Twitter, etc.
* Note that we are likely an affiliate for any vendors mentioned. Using our link for your purchase does not cost you anything, but it does give us a few cents in commission from any purchases. Thank you for your support.